Most of us living in metros are quite pissed of with our network providers, we all have 3G connections but because of some stupid network sharing nonsense we have to endure horrible speeds even at 3G (you can comment below if you disagree).
What's worse than no internet is slow internet especially when you have shelled out money for fast internet. Many times I could not load a snapchat story or an instagram image because of the 'oh-so-wonderful' speeds. The internet speeds gets the most irritating when we are traveling back from work and just want to sit back, enjoy and stream something to kill the long traveling time. This is the time when we need fast cellular internet the most but more often than not we just end up staring at the 'loading screen' and worrying about data limits.
Well, why the hell am I telling you this? And 3G has been around for a while so why now?
There is a solution now.
Airtel, like a Knight in shining armor has come to save mobile internet by bringing 4G to India and oh it is fast.
Something that would take around half hour's time on a 3G connection, gets done in a mere 4 minutes on 4G.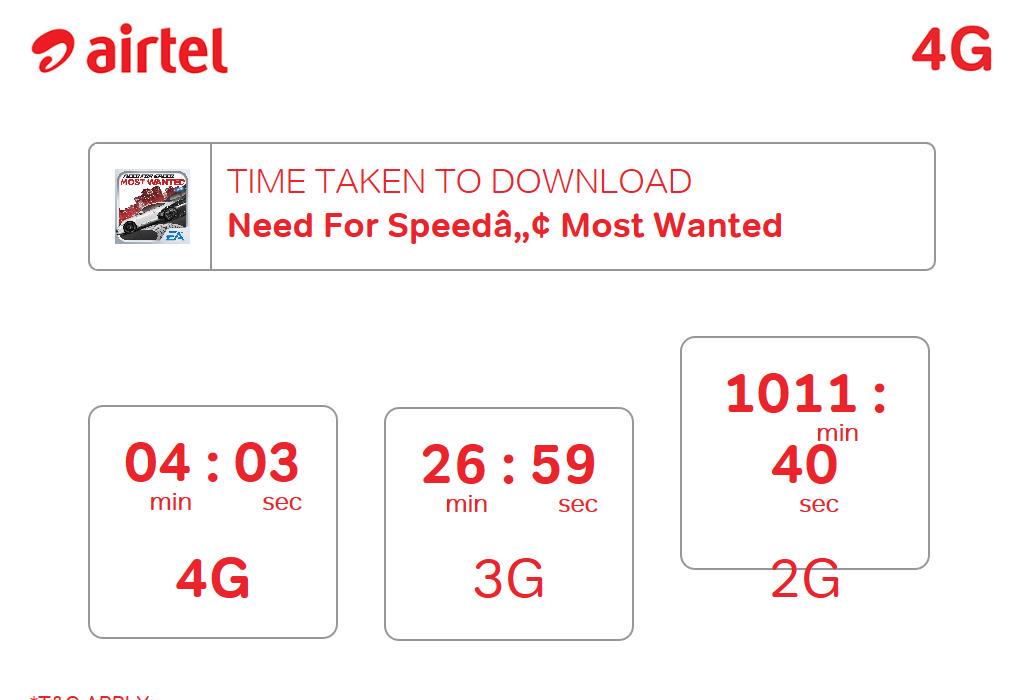 That is, over 550 MB being downloaded in just 4 minutes.
So, are you still waiting for something, because this speed seems to respond faster than you.
Oh, you are worried about the cost. Ya, about that, its the same that you shelled out for your prehistoric 3G connection.
Still waiting ?
Find out how much time will you take to download an app on 4Gvs3Gvs2G by tweeting:
@airtelindia #Airtel4GSpeedTest <app name>
Visit www.airtel.in/4g to experience the speed.